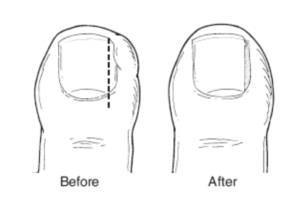 Ingrown toenails
Ingrown toenails are a common condition treated by Podiatrists at Complete Step in Mount Martha. Ingrown toe-nails are painful and often result in inflammation, infection and swelling. Ingrown toenails can develop due to a number of reasons, including nail shape, cutting technique or trauma to the nail.
Ingrown toenails can be treated through conservative (non-surgical) techniques however sometimes a simple surgical procedure can be performed.
Ingrown toenail surgery by Podiatrists at Complete Step in Mount Martha
Ingrown toenail surgery is indicated when conservative management fails to resolve and the clinic has to continue returning to the clinic for treatment regularly. Thus surgery is a long-term management option that is sometimes needed in cases of chronic ingrown toenails. Ingrown toenail surgery involves removing the root of the affected side of the nail and using a chemical to ensure it does not grow back. The surgical procedure is very successful, and most people are surprised at how simple and painless the procedure is. Very few people experience post-operative pain. The procedure is performed under local anaesthetic and no 'stitches/sutures' are required. Following the procedure a period of rest and the use of open-toe footwear is advised. You are able to walk out of the procedure, however it is a good idea to arrange transport or have someone drive you home after the procedure.
Book your appointment now online!
Don't suffer any longer from your painful ingrown toe-nail. Book online now via this link